CLICK HERE TO DOWNLOAD LIVE SETS IN .FLAC
CLICK HERE TO DOWNLOAD LIVE SETS IN .MP3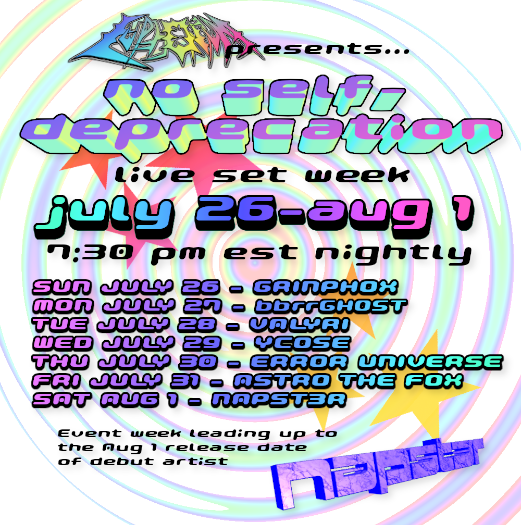 WHAT WAS "NO SELF-DEPRECATION"?
Euphonium Records' very first live set week! It took place during the week of 07/26/2020-08/01/2020. One artist performed per night and it was streamed on twitch.tv/euphoniumrecords. It led up to the debut release of NAPST3R S/T!
WHY THE NAME "NO SELF-DEPRECATION"?
It was a phrase uttered during the Discord stream of PASSION-POWERED GAMUT VOL. 1 that has since become a semi-playful rule. It really resonated with our artists, as it's extremely self-validating and amplifies one's confidence once they adhere to it. We at EUPHONIUM live by the phrase "No Self-Deprecation", as we have so much immense talent and are eager as hell to showcase them at their fullest potential for you to enjoy.

EST 2020 | Contact @ euphoniumrecords@gmail.com | Cursor code by: Catherine!